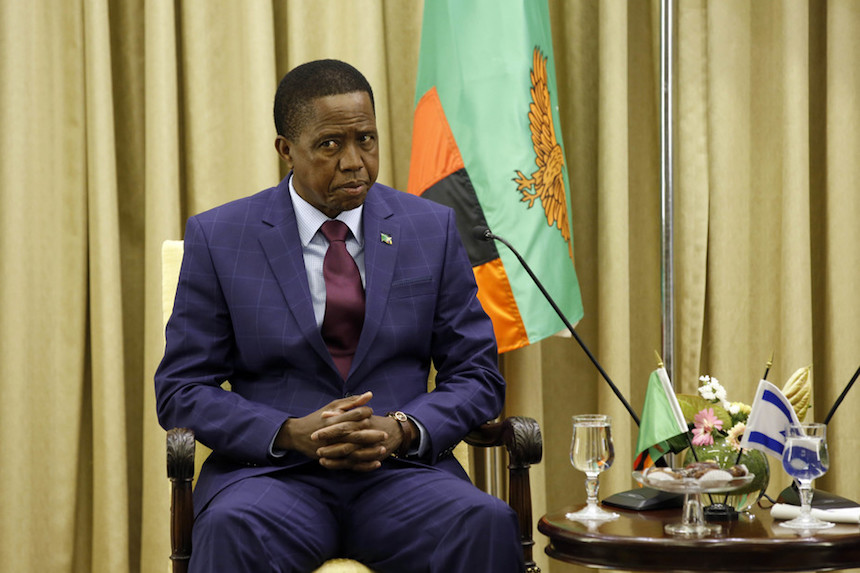 For 24 hours rumors swirled through Zambia that President Edgar Lungu planned to initiate a state of emergency. When he finally took to the airwaves to make a special announcement he did something different. Invoking Article 31 of the constitution – Declaration Relating to Threatened Emergency – rather than Article 30 – Declaration of Public Emergency – the president requested extra powers to prevent a state of emergency rather than actually declaring one.
In practice, the difference between the two is slim. If, as expected, parliament approves his request he will have been given considerably more powers. He will be able to restrict movement of assembly, implement a curfew, curtail parliament, ban publications, order detention without trial, and search any property without a search warrant. As respected Zambian commentator Sishuwa Sishuwa has put it, this is effectively a "State of Threatened Emergency".
The president's decision to go with Article 31 is significant for a number of reasons. The first is that it allows the Zambian government to ward off criticism by being able to argue that it has not declared a state of emergency. This is important because the Patriotic Front regime is in the process of negotiating a much needed economic bail out with the International Monetary Fund.
Presenting its authoritarian backsliding in a more palatable way is therefore extremely valuable. By opting for Article 31, Lungu hopes to have his cake and eat it. He will have secured powers to consolidate his political control while generating "plausible deniability" to whether or not he has fatally undermined Zambian democracy.
To some extent this strategy has been successful. Initial Facebook and twitter conversations about how the measure could be reversed quickly gave way to confusion and arguments about what the president had actually declared, and what it meant.
Why did Lungu do it?
The official reason behind the president's request for extra powers is a spate of civil disobedience and arson that has seen a number of markets burnt down. The immediate trigger was a fire that destroyed the country's largest, the City Market in Lusaka.
But the president's claim to simply be acting in the interests of law and order has been fiercely contested by critics. Instead, opposition leaders allege that the government has been either taking advantage of natural fires or deliberately starting them to justify the extension of authoritarian control.
This claim is lent credibility by the fact that the investigation of the City Market fire had only just begun when the decision to expand the president's powers was taken. Rumors circulating in Zambia suggest that in fact it resulted from an electrical fault rather than sabotage.
If this is true, it raises the question of what lies behind Lungu's increasingly aggressive strategy. Three overlapping explanations are circulating, all of which have a degree of plausibility.
The first is that it's simply another way of intimidating the opposition. In addition to arresting United Party for National Development leader Hakainde Hichilema, popularly known as HH, the government has tried various ways to clamp down on opposition to its rule. This has included the suspension of 48 opposition MPs. And fears that Hichilema might be acquitted by the High Court, and subsequently released, are said to explain the timing of the president's statement.
The second is that the president faces serious challenges within the Patriotic Front, where some question his suitability to lead. In addition to rumors that he is in bad health, this makes him potentially more vulnerable to internal opposition than to the challenge of the main opposition party. On this interpretation, Lungu's appropriation of extra powers is designed as a warning to his rivals within the party to back off.
Finally, some see his decision as being motivated by his desire to secure a third term in office when his current term ends in 2021. The legality of this is questionable, and the move is fiercely opposed by opposition parties.
On their own, none of these claims fully explains why Lungu has opted for such a controversial move when IMF negotiations are at a delicate stage. In reality it may be that the president's actions are explained by some combination of all three – or indeed, an alternative explanation that has not yet come to light.
What happens next?
There's confusion about exactly where Lungu intends to go from here. In a presidential address in the last hour his stance appeared to harden, rejecting international criticism and stating that: "If they [IMF] think I am going astray, let them go."
According to Nicole Beardsworth, a senior researcher at the University of the Witwatersrand's Centre for the Study of Violence and Reconciliation, Lungu's declaration will give him additional powers. Moreover, if his statutory instrument is approved by Parliament, it can be extended for a period of months.
This would seem to give the president all the time and powers he would need to further cow internal and external opposition, although it's still possible that he will seek to apply a full state of emergency.
What may prevent this from happening is concern within the cabinet that such a move would be unnecessary and counterproductive. Not all leaders of the Patriotic Front agree with the direction that Lungu is taking his country in. Push back in a cabinet meeting is said to have prevented an even more forceful declaration.

Given the president's new found capacity to control the media and intimidate the opposition, these internal constraints may prove to be Zambia's best hope of avoiding dictatorship.
Nic Cheeseman, Professor of Democracy, University of Birmingham
This article was originally published on The Conversation. Read the original article.