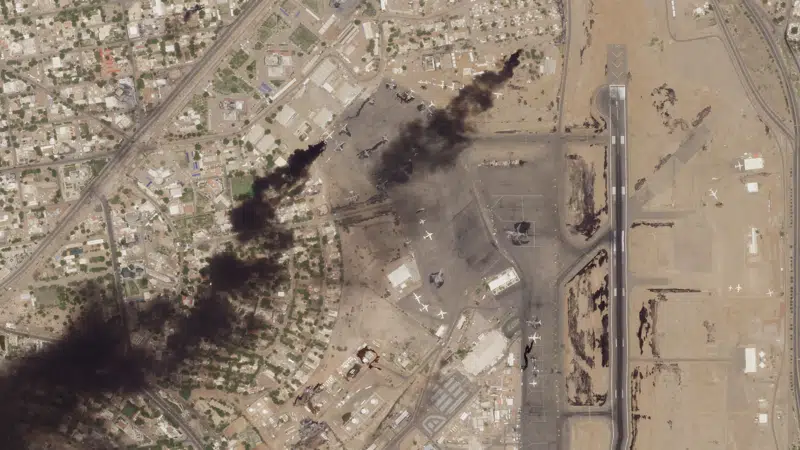 Egypt on Thursday repatriated dozens of its military personnel who had been held by Sudan's paramilitary force, which is locked in a deadly struggle with the Sudanese army to control the strategic African country.
The latest attempt at a cease-fire between the rival Sudanese forces faltered as gunfire rattled the capital of Khartoum. As global pressure to stop the violence failed, Japan and the Netherlands flew transport planes closer to the conflict-battered nation ahead of a possible evacuation of their citizens.
Egyptian air force technicians had been detained by fighters from Sudan's Rapid Support Forces after the group attacked Merowe airport, north of the capital. A close ally of Sudan's army, Egypt said the personnel were there for training and joint exercises. Fighting soon after erupted around the country between the RSF and Sudan's army.
Egypt's army said in a statement Thursday that all its technical crews had been flown home from Sudan in military transport planes. The Sudanese military also confirmed the evacuation, putting the number of Egyptian personnel at 177.
The evacuation came as the military and RSF launched a 24-hour cease-fire Wednesday evening after five days of battles between them in the streets of the capital and other parts of the country. The day before, a similar truce failed to stop the deadly clashes that threaten to engulf the country in civil war.
At least 330 people have been killed and over 3,000 injured so far, the U.N. health agency said, but the toll is likely higher because many bodies lie uncollected in the streets.
Through the night and into Thursday morning, gunfire could be heard almost constantly across Khartoum. Artillery shelling and airstrikes seemed to have eased from previous days, but residents still reported a few explosions.
Aid groups said they needed better guarantees of safety and a longer truce to help civilians trapped by the intense urban combat and to salvage hospitals that have been battered, shut down or overwhelmed by the violence.
Hospitals in Khartoum are running dangerously low on medical supplies, often operating without power and clean water. Around 70% of hospitals near the clash sites throughout the country are out of service, the Sudanese Doctors Syndicate said Thursday. At least nine hospitals were bombed, it said.
"We are worried that Sudan's healthcare system could completely collapse. Hospitals need additional staff, they need additional supplies, and they need additional blood supplies," Stephane Dujarric, spokesperson for the U.N. secretary-general, said in a briefing Wednesday.
International diplomats have hoped a 24-hour truce can be expanded to a longer cease-fire and a return to negotiations over Sudan's future. But even a solid one-day pause has been a challenge, as army chief Gen. Abdel Fattah Burhan, and RSF commander Gen. Mohammed Hamdan Dagalo — former allies against Sudan's pro-democracy movement — have seemed determined to crush each other in their struggle for power.
The sudden outburst of violence between the two camps that began Saturday has trapped millions of Sudanese in the crossfire. On Wednesday, many fled their homes hoping to find safety outside the city.
Foreign governments as well geared up to evacuate their citizens from the country. But with the airports in Khartoum and other cities turned into battlegrounds, it remained uncertain how they would do so.
Japan's Defense Minister Yasukazu Hamada on Thursday ordered military aircraft sent to the Horn of Africa nation of Djibouti to stand by for an evacuation of around 60 Japanese nationals. Japan has troops in Djibouti on an anti-piracy mission who are also ready to help in the evacuation, the ministry said.
The Dutch government sent military transport craft to the Jordanian port city of Aqaba late Wednesday. The Defense Ministry acknowledged that "evacuations are not possible at the moment" from Sudan but said that by stationing more resources nearby it can "react quickly and flexibly if necessary."
– Jack Jeffery and Samy Magdy, AP News