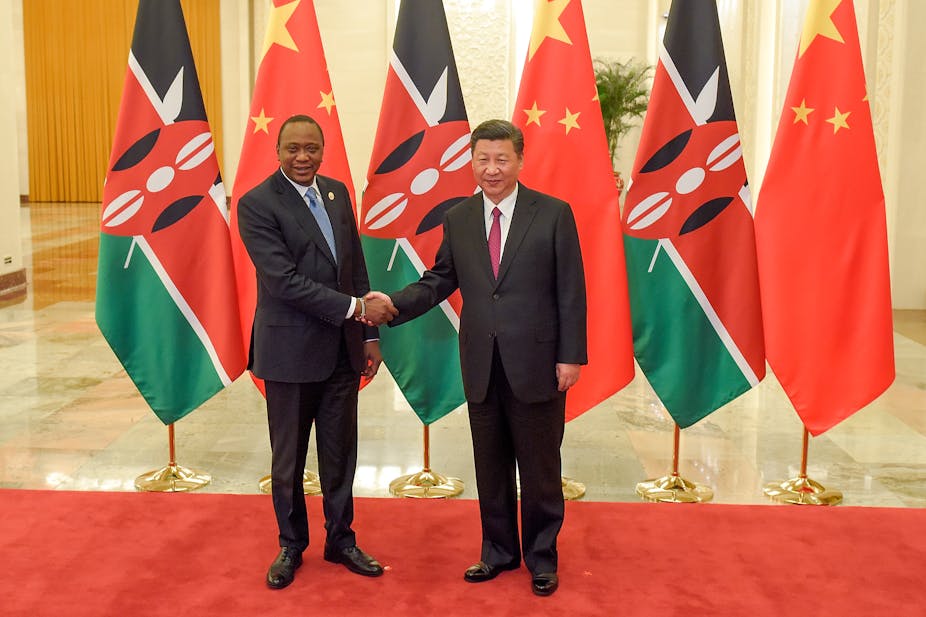 The Chinese have established themselves as one of the biggest investors in Africa's infrastructure projects. In Kenya, one of their flagship projects is the country's new standard gauge railway, which is estimated to be worth $3.2 billion.
Several other Chinese projects have been initiated in the country, particularly in the manufacturing, construction and hospitality sectors. But this flourishing business partnership has not been without challenges. One of the biggest has been accusations of racial discrimination by Chinese nationals against their Kenyan counterparts.
A few weeks ago, an investigative journalist revealed that Kenyan workers at the Chinese-built railway were being subjected to repeated incidents of racial discrimination and abuse by their Chinese supervisors. The report also alleged that the China Road and Bridge Corporation, the Chinese conglomerate that operates the 473 km Nairobi-Mombasa railway, was implementing a deliberate segregation policy.
Other allegations were that Chinese nationals were doing jobs that should have been done by Kenyans, and that highly qualified Kenyan staff were assigned minor roles. It's also alleged that Kenyan workers were segregated from their Chinese colleagues in eating areas, toilets, accommodation and travel. The journalist also uncovered pay disparities on the basis of race. Unfair treatment, long working hours, threats, and harassment were also reported.
In response to the exposé, the cabinet secretary in the ministry of labour formed a team to probe the allegations. At the same time, the government asked Kenyans to bear with the Chinese. It blamed the alleged racism on a misunderstanding and unresolved cultural differences.
Kenyans are well within their rights to demand equal treatment. The country has signed the International Convention against racial discrimination. Its constitution also protects people against racial discrimination, as do a number of its laws. So far, reported incidents of racism have been dealt with in a lacklustre manner or ignored. Kenya is failing to meet its obligations to its people.
Dealing with discrimination
This is not the first time Chinese nationals have been accused of racism in Kenya. Three years ago a Chinese restaurant was shut down after reports that it barred black patrons from its premises after 5 pm. It should be noted, however, that the restaurant was shut down for allegedly not having a valid business permit. This meant that the owners were not held to account for racially profiling black patrons.
Not unsurprisingly, incidents like this have elicited public outrage. They've been been denounced as an apparent display of racist behaviour. A few of these incidents make headlines: a racially insensitive email; a racist assault. But it's very likely that many cases of racial discrimination don't make news; perhaps because people don't know their rights or that Kenya has a legal framework to deal with such cases.
Apart from international conventions, and its constitution, the country has specific laws that ban racist behaviour. For example, the Employment Act prohibits discrimination against employees or prospective employees on grounds of race or colour.
When it comes to racially instigated crimes, the National Cohesion and Integration Act outlaws the use of words intended to incite feelings of contempt, hatred, hostility, violence or discrimination against any person, group or community on basis of ethnicity or race. Those found guilty of violating the act can be fined or imprisoned.
The challenge is that enforcement is patchy. Sometimes the laws work, and sometimes they don't. Examples of where they have worked include a ruling made by the Employment and Labour Court which awarded compensation to employees of a research institute who were discriminated against by their employer on racial grounds.
Road ahead
While Kenya may be applauded for having a legal framework that prohibits racial discrimination, the typical state reaction to racial bias does little to deter potential offenders. This has been seen clearly by the government's lukewarm reaction to reports of Chinese racism.
With the exception of a Chinese national who was deported for a racist outburst against Kenyans – he also called President Uhuru Kenyatta a "monkey" – serious action is seldom taken to deal with incidents of racial discrimination against local people. In fact, one could argue that stern action was taken against the Chinese deportee only because he insulted the president.
It could be that the Kenyan authorities are determined to tread carefully in their dealings with their development partners, and particularly the Chinese. But they are doing it at the expense of the dignity of their own people. Every racist, no matter how valuable the government deems their contributions to be, must be subjected to prosecution and punishment.
It is laudable that due to social media and the press generally, incidents of racism against Kenyans are gradually being highlighted more. This public recognition and agitation is likely to deter brazen incidents of racism. This effort ought to be equally matched with punishment which gives a definite expression that racism is abhorred and will not be tolerated.

Juliet Okoth, Lecturer, International Law, University of Nairobi
This article is republished from The Conversation under a Creative Commons license. Read the original article.