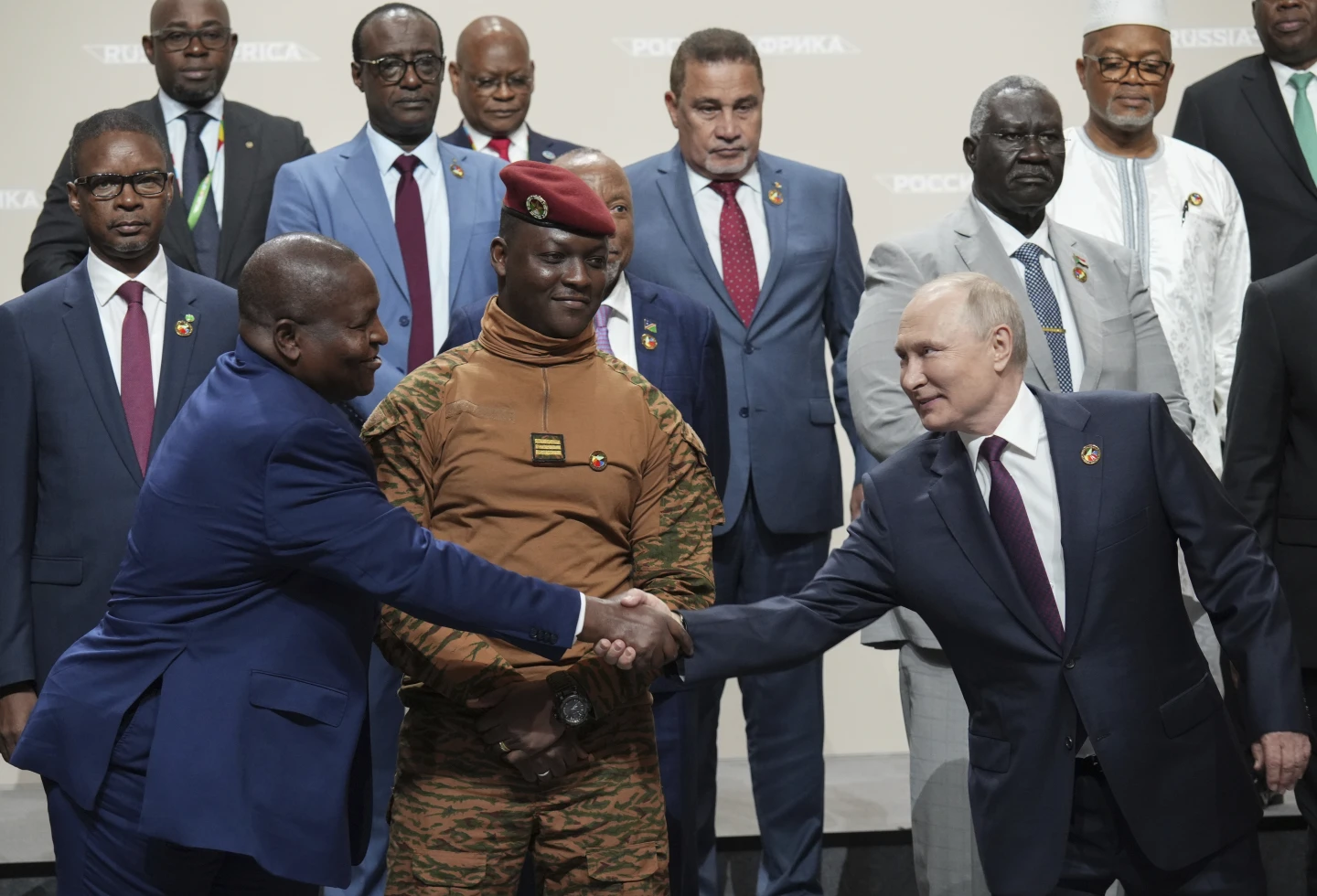 Russian President Vladimir Putin courted leaders from Africa at a summit on Friday, hailing the continent's growing role in global affairs and offering to expand political and business ties.
Addressing the Russia-Africa summit for a second day, Putin said Moscow would closely analyze a peace proposal for Ukraine that African leaders have sought to pursue.
"This is an acute issue, and we aren't evading its consideration," the Russian leader said, emphasizing that his government was treating the African initiative with respect and "looking at it attentively."
He encouraged the African leaders to talk to Ukraine, which has refused to engage in talks until Russian troops pull back. "I believe it's necessary to also talk to the other side, although we are grateful to our African friends for their attention to the issue," Putin said at the St. Petersburg summit.
South African President Cyril Ramaphosa said African leaders were looking forward to engaging further with Putin later Friday on their peace proposal.
"It is our hope that constructive engagement and negotiation can bring about an end to the ongoing conflict," Ramaphosa, who leads sub-Saharan Africa's most developed country, said, adding in South Africa, "our own history has taught us that this is indeed possible."
Without specifically mentioning the fighting in Ukraine, Ugandan President Yoweri Museveni denounced those who foment ideologically-driven military conflicts as "time and opportunity wasters," adding that "human history will move on, whether they like it or not."
"The only justified wars are the just wars, like the anti-colonial wars," Museveni said. "Wars of hegemony will fail and waste time and opportunity. Dialogue is the correct way."
In his speech, Putin reaffirmed his pledge that Russia will maintain steady supplies of grain and other agricultural products to the continent after its withdrawal from a deal allowing grain shipments from Ukraine. Moscow's withdrawal from the Black Sea Grain Initiative has fueled concerns of a global food crisis.
"Russia will always be a responsible international supplier of agricultural products and will continue to support the countries and region in need by offering free grain and other supplies," the Russian leader said.
He declared at the summit's opening Thursday that Burkina Faso, Zimbabwe, Mali, Somalia, Eritrea and Central African Republic each will receive 25,000 to 50,000 tons of Russian grain in the next three to four months.
In comparison, the U.N. World Food Program shipped 725,000 tons of grain to several countries, including Somalia, under the Black Sea deal.
U.N. Secretary-General António Guterres responded to Putin's pledge of no-cost grain shipments by noting that such donations of grain can't compensate for the impact of Moscow cutting off grain exports from Ukraine, which along with Russia is a top supplier to the world market.