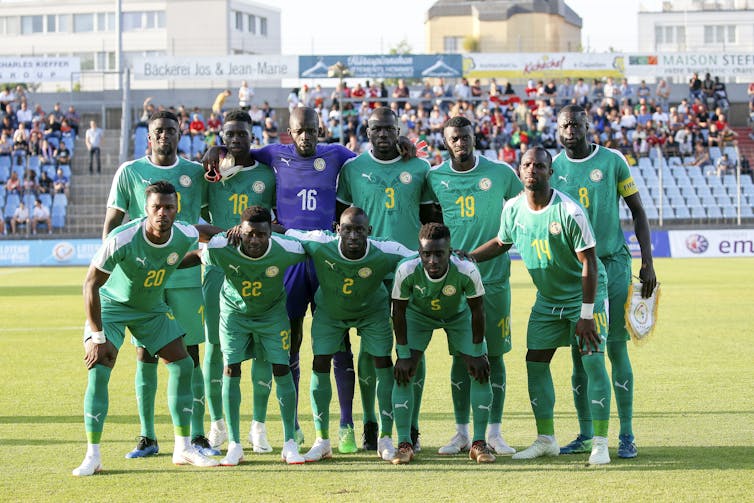 With next year's presidential elections on the horizon, Senegal is gripped by political and economic unrest. The recent killing of a student by a police officer during university protests over unpaid bursaries is just one tragic indicator of the upheaval, discontent and uncertainty which characterises the current climate.
Amid the turmoil, the Senegalese football team's forthcoming participation at the 2018 FIFA World Cup in Russia presents a beacon of hope. Street vendors have begun to sell replica shirts in the national team's white and green, and a mood of cautious optimism is unfolding.
In a country where the passion for sport is ubiquitous, a successful performance by the Lions de la Teranga at the world's most prestigious tournament has the potential to bring momentary joy to a beleaguered population. This is precisely what happened during Senegal's previous, and to date only, appearance at the World Cup finals in 2002.
Entering the tournament as rank outsiders, a team of relative unknowns proceeded to sensationally beat the reigning champions and overwhelming favourites France in the opening match. They then managed to advance to the quarter finals – as one of only three African teams to do so in the history of the competition.
Many of the stars of the 2002 generation went on to become household names in European club football. The likes of El Hadji Diouf, Salif Diao and Papa Bouba Diop forged successful careers in England. The events of 2002 – and in particular the hugely symbolic victory over their former colonisers – announced Senegal's arrival as a force to be reckoned with in the global game.
Wrestling has overtaken football
However, over the next decade and a half, Senegalese football stagnated somewhat. The national team failed to qualify for any of the subsequent three World Cups, and their performance at the African Cup of Nations was largely dismal.
Meanwhile, there is widespread agreement that the hugely popular sport of traditional wrestling has overtaken football as the nation's favoured pastime. Combats between wrestling superstars sell out vast arenas and saturate the media. The Génération 2002, as they would enter into lore, became a mythical emblem of past glories rather than the beginning of a new era of dominance.
It is only now, after several false starts, that the team – coached by the 2002 captain Aliou Cissé – promise to recapture the glory of that famous outing in Japan and Korea. In contrast to the 2002 squad, most of whom played for lesser teams in the French championship, the current crop are far from unknown.
Led by the mercurial talents of Liverpool winger Sadio Mané, the 2018 Lions boast a wealth of elite players from Europe's leading football clubs. Kalidou Koulibaly of SSC Napoli is one of the game's most in-demand defenders and Keita Baldé Diao is a star of the future at AS Monaco.
Midfielders Idrissa Gueye, Cheikhou Kouyaté and Badou Ndiaye are all established at English Premier League clubs. There is a genuine sense that this team can achieve something special at the World Cup, perhaps even emulating their illustrious predecessors.
Opiate of the masses
It's often suggested, misquoting Karl Marx, that sport (and football in particular) has replaced religion as the "opiate of the masses." It provides illusory moments of happiness while distracting from problems or hardships. Indeed, it is often proposed that sporting success can be translated into political capital, allowing a regime to appear in a positive light, or glossing over its failings.
Following this logic, it is indeed possible that a successful World Cup in Russia might be welcomed by the incumbent president Macky Sall, currently facing much opposition in his bid for reelection. Seen from a different angle, however, sports can also expose a society's fissures and tensions.
When Cissé announced the 23 players who would form the squad in Russia, he was not only listing the names of the elite athletes who would represent the country – he was revealing much about the relationship between football and Senegalese society.
It is striking to note, for instance, that not one single member of the squad plays his club football in Senegal. Among the 32 nations participating at this year's tournament, only Sweden are in the same position of having their entire squad playing abroad.
The squads of the other African qualifiers – Egypt, Morocco, Nigeria, and Tunisia – each include at least some players from their respective domestic leagues. Certainly, this points towards the relative weakness of the Senegalese league. It is chronically underfunded, does not usually attract large numbers of supporters and pays low wages.
Football conveyor belts
A flourishing domestic championship does not appear to be the primary aim of professional football in Senegal. It is perhaps no coincidence that two of the more successful teams in recent years have been the 2013 champions Diambars, and Génération Foot, victorious in 2017.
These clubs, set up with external assistance from sportswear giant Adidas and French club, FC Metz respectively, are academies dedicated to producing a conveyor belt of footballing talent for export to European leagues, while also pursuing educational and developmental goals.
Cissé's selection includes a combined total of seven players who moved to Europe from these two academies, including the superstar Mané. With the increasing globalisation of football, the development and sale of talent has emerged as a lucrative industry – albeit one which has yet to contribute significantly to the development of Senegalese football at a domestic level.
Instead, there has been a proliferation of football schools and academies determined to cash in on the boom. With it, a wave of young men desperate to forge careers in European football.
While conducting a year's fieldwork on sport aspirations in Dakar, I met countless young men who professed dreams of playing in Europe. In some cases, their families were counting on their success to lift them out of poverty, and enlisted the support of dubious agents to engineer trials and transfers. These often turned out to be scams.
This is a common story in African football – yet it reflects the economic situation within which the sport is embedded. Youth unemployment is at consistently high levels and irregular work in the informal economy often the only realistic prospect. Therefore becoming a well-paid footballer or a wrestler can seem like a worthwhile pursuit to thousands of young Senegalese men.
Many Senegalese migrate to Europe – by acquiring a visa, or by risky Mediterranean crossings. Indeed, Senegal's long history of migration is reflected in the World Cup squad, with 10 squad members having been born in Europe, mostly in France.
Football, then, can be viewed as a prism through which to understand social phenomena. In the case of Senegal, even the announcement of the World Cup squad allows us to reflect about historical migration patterns, youth unemployment, and risks and inequalities in the global sports industries.
However, football can also bring about cohesion and togetherness. When the Lions de la Teranga face Poland in their first match in Russia, the whole Senegalese nation will be united in roaring them on to victory – and perhaps the beginning of another magical World Cup.

This article is based on research conducted as part of the GLOBALSPORT project based at the University of Amsterdam and funded by the European Research Council.
Mark Hann, Doctoral student in Anthropology, University of Amsterdam
This article was originally published on The Conversation. Read the original article.