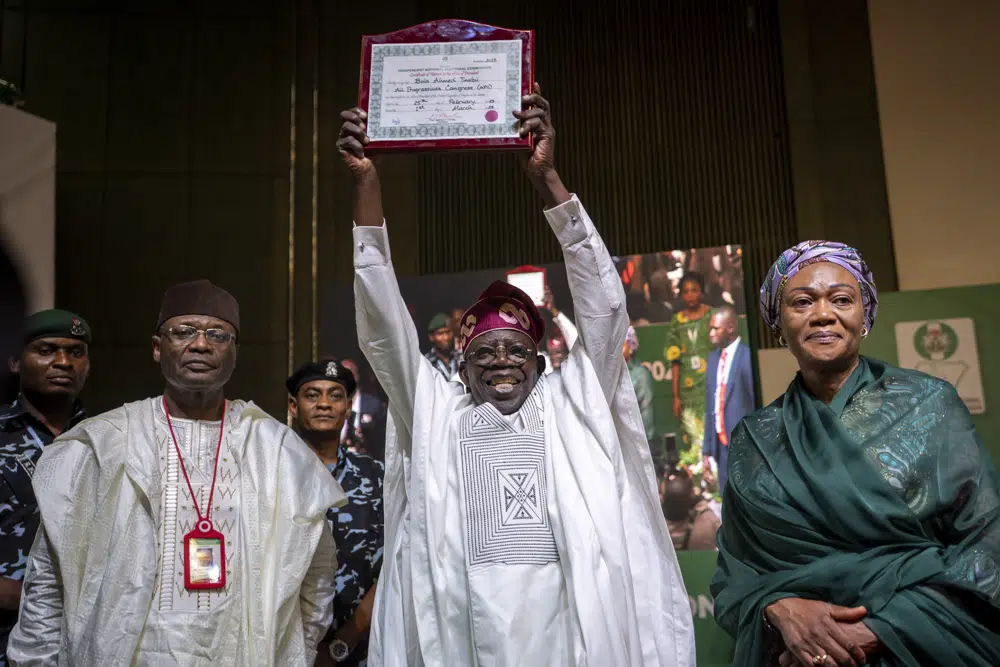 Election officials declared Bola Tinubu the winner of Nigeria's presidential election Wednesday, keeping the ruling party in power in Africa's most populous nation and raising the specter of protests by opposition supporters who already have called for the vote to be voided.
Tinubu, 70, the former governor of Lagos state, appealed for reconciliation with his rivals in a pre-dawn victory speech in the capital, Abuja. The running mate of one opposition candidate, though, signaled a court challenge was imminent.
Nigeria, Africa's largest economy and one of the continent's top oil producers, has seen deadly violence erupt after previous presidential elections. Tinubu urged Nigerians to unite behind his administration after he takes office on May 29.
"I will … dedicate this day and record it as the moment that we vowed to come together to make Nigeria stand, shining forth as the beloved and brave republic that God created for all of us," he said in a speech after the election commission gave him a certificate confirming he was president-elect.
Tinubu received only 37% of the vote in last weekend's election and would be Nigeria's first president to take office with less than 50%, analysts say. The main opposition candidate, Atiku Abubakar, received won 29% of the vote, while third-place finisher Obi got 25%, according to official results.
Hours after the Independent National Electoral Commission announced the tallies, Obi's running mate, Datti Baba-Ahmed, told reporters they would challenge the results in court on the basis that provisions of Nigeria's election law were not followed.
"There is an incoming government of the Federal Republic of Nigeria that is illegal and unconstitutional," Baba-Ahmed said. "The only language we know is peace. If Nigerians are going to achieve peace through peaceful protests, (it is) welcome."
The election recorded the lowest turnout since 1999, with only 27% of eligible voters casting ballots. The low participation doesn't necessarily reflect apathy as much as fuel and currency shortages, voter suppression and violence, said Mucahid Durmaz, senior West Africa analyst at Verisk Maplecroft, a risk intelligence company.
Much of Nigeria remained calm Wednesday afternoon amid fears of protests by opposition supporters. In the Kubwa area of Abuja, Tinubu supporters flooded the streets, singing and dancing in excitement. But nearby one Obi supporter expressed her dismay.
"I will join a protest, if there is one, because my vote did not count," said Favour Ben, 29, who owns a food business in the capital.
Abubakar also finished second in the previous vote in 2019, and appealed those results in court although his lawsuit ultimately was dismissed.
Nnamdi Obasi, senior adviser on Nigeria for the International Crisis Group, said Tinubu will need to form an inclusive government and focus on rebuilding national cohesion while contending with challenges to his legitimacy.
Tinubu "will have to strive to win the support of the larger majority who preferred one of the other candidates, particularly the youth, the Christian groups that were opposed to his Muslim-Muslim ticket and Igbos in the southeast who again feel denied the presidency."
Tinubu is a Muslim from the south and chose a fellow Muslim as his running mate in order to secure votes from the Muslim-dominated north, which has more registered voters than the Christian south, a strategy that proved effective, analysts say.
Trying to ease people's concerns Wednesday, Tinubu said he understood the "hurt," "anger" and "disappointment" and asked people to put the country ahead of individual grievances.
"This great project called Nigeria beckons to us all. It is bigger and more important than any partisan divide," he said.
Tinubu clinched victory in part because the opposition vote was split and because his party had the strongest push to get people out to vote, said Amaka Anku, Africa director at the Eurasia Group consultancy.
President Muhammadu Buhari congratulated his successor in a statement Wednesday, but said the election wasn't perfect.
"Of course, there will be areas that need work to bring further transparency and credibility to the voting procedure," he said. "However, none of the issues registered represents a challenge to the freeness and fairness of the elections."
The parties now have three weeks to appeal results, but an election can be invalidated only if it's proven the national electoral body largely didn't follow the law and acted in ways that could have changed the result.
The Supreme Court of Nigeria has never overturned a presidential election, though court challenges are common, including by Buhari, who doggedly fought his past election losses for months in vain.
YIAGA Africa, Nigeria's largest election observer group, said there were inconstancies in the results in Rivers and Imo states between the information gathered by observers on the ground and the results announced by the electoral body. While the it wasn't enough to impact the election's final outcome, the errors spotted could be the tip of the iceberg, said the group.
"If this happened in our sampled polling units, if you extrapolate, it means there could be more because we are not in all the polling units, this just gives you an idea of what could have been happening in all the polling units," said Samson Itodo, founder of the organization.
The West African regional bloc, known as ECOWAS, called on political parties to appeal to their supporters to exercise maximum restraint and refrain from using provocative language, which would only "exacerbate political tensions, divisiveness, and violence at this critical stage," the group said in a statement.
Observers have said Saturday's election was mostly peaceful, though delays caused some voters to wait until the following day to cast their ballots. Many Nigerians had difficulties getting to their polling stations because of a currency redesign that resulted in a shortage of bank notes.
– Chinedu Asadu, AP News