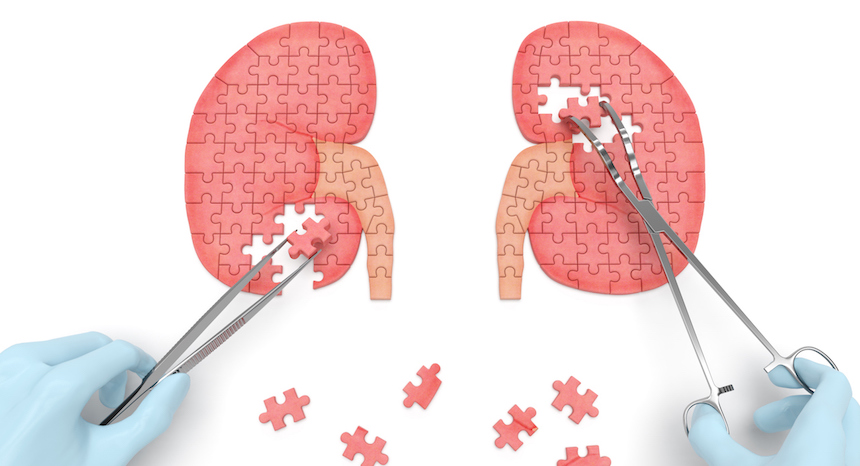 Close to three million people suffering from chronic kidney failure across the world receive renal replacement therapy every year. But between 4.9 million and 9.7 million more still need treatment. And at least two million die because they cannot access it.
Kidneys filter wastes and excess fluids from the blood which are then excreted in the urine. When someone has chronic kidney disease, their kidneys are unable to perform these tasks and they require renal replacement therapy in the form of dialysis or kidney replacement.
Chronic kidney disease is a global problem with about 10% of the world's population suffering from the disease.
But in sub-Saharan Africa, about 14% of the adult population suffers from chronic kidney disease . Between 1999 and 2006 South Africa saw a 67% rise in deaths as a result of chronic kidney disease.
There are three main challenges with managing chronic kidney disease on the continent. Firstly lifestyle changes have resulted in increasing obesity rates which in turn increases the risk of kidney disease. Secondly, there is the link between HIV and kidney failure and thirdly, there are treatment failures.
Many patients with kidney failure either incur catastrophic out of pocket medical bills, or they die. If the underlying challenges aren't addressed the problems that come with expected increases in chronic kidney disease on the continent will only get worse.
Obesity's role
Obesity is one of the most potent risk factors for people developing kidney disease. This is because it increases the risk of people developing diabetes and hypertension – two of the major risks for chronic kidney disease.
The rise in obesity rates has been rapid, substantial and widespread. As a result, obesity has become a major public health epidemic in both the developed and developing world.
The estimations are that by 2025, obesity will affect 18% of men and more than 21% of women worldwide while severe obesity will affect 6% of men and 9% of women.
On the continent South Africa has the highest number of overweight and obese people. Close to 70% of South Africa's women are overweight or obese, according to a study by The Lancet. More 25% of girls are also overweight or obese.
The Lancet study found that 70% of South African women are overweight and 42% are obese. The problem is also acute in children. There is combined overweight and obesity prevalence of 13.5% for South African children aged six to 14 years. This is higher than the global prevalence of 10% in schoolchildren, but lower than current levels in the US.
If action is not taken to halt this epidemic, the expected increase in overweight and obese South African children will become a major concern.
There are very specific dietary and lifestyle changes that are linked to obesity. This includes patterns of increased eating, drinking and smoking along with reduced physical activity, and a shift to a diet high in sugar, salt and saturated fat.
Evidence shows that people with a higher weight-to-height ratio – more commonly known as a body mass index – have a higher risk of developing cardiovascular disease, cancer, diabetes, osteoarthritis and chronic kidney disease.
Expensive treatment
Treatment of chronic kidney disease on the African continent is dire. Of the world's population that needed renal replacement therapy, only 1% of those who received treatment lived in Africa.
There are two main problems:
dialysis is costly, and
there are too few facilities to perform transplants.
In South Africa, more than half of potentially eligible patients are turned down for dialysis as a result of cost. But dialysis not a cure, it is a lifeline while patients wait for a transplant.
In South Africa there only three public hospitals that offer kidney transplants. And on the rest of the continent, there are very few countries offering routine transplants. Nigeria and Kenya have started up programmes.
The link between kidney failure and HIV
Africa carries the world's highest burden of HIV: In 2013, more than 24.7 million people were living with the disease, accounting for 71% of the total caseload on the globe.
Studies have also shown that severe immunosuppression – or CD4 counts less than 200 – are a predominant risk factor for acute kidney infection.
The extent of the HIV epidemic and its associated burden of chronic kidney disease on the continent make it a challenging problem.
The main challenge is that there are no measures to prevent renal disease in people living with HIV or to detect it early enough to treat it. As a result, most clinicians deal with advanced stages of chronic kidney failure in people living with HIV.
Making changes
The underlying causes that lead to chronic kidney disease need to be tackled as a matter of urgency.
Firstly, the challenge of a rise in diet-related non-communicable diseases – such as obesity and hypertension – which accounts for 28% of the burden of disease in South Africa, must be addressed.
One critical intervention would be to get people to eat healthier. For obese individuals sustained moderate weight loss by itself is definitely beneficial in obesity, especially "morbid" obesity, but also in diabetes, hypertension, hyperlipidaemia, cardiorespiratory diseases and other chronic degenerative diseases associated with any degree of excess body fat.
Reducing salt intake would also make a dramatic difference. Excessive salt leads to increased risk of stomach cancer, kidney failure, dehydration, high blood pressure and hypertension, which in turn can contribute to heart disease and strokes.
Another critical intervention is education: people need to understand the causes and risks. Action and clear strategies are needed. South Africa's Department of Health realises the significance of the obesity crisis, and has included this in the national non-communicable diseases strategic goals to assist with the obesity problem in the country:
Increase physical activity by 10% by 2020;
Reduce the consumption of alcohol by 20% by 2020; and
Reduce the percentage of people who are obese and overweight by 10% by 2020.

But there's only so much that governments can do. It's up to the individuals to improve their health and quality of life.
Irene Labuschagne, Principle dietitian at the Nutrition Information Centre, Stellenbosch University and Johan Nel, Senior specialist in the Division of Nephrology, Stellenbosch University
This article was originally published on The Conversation. Read the original article.