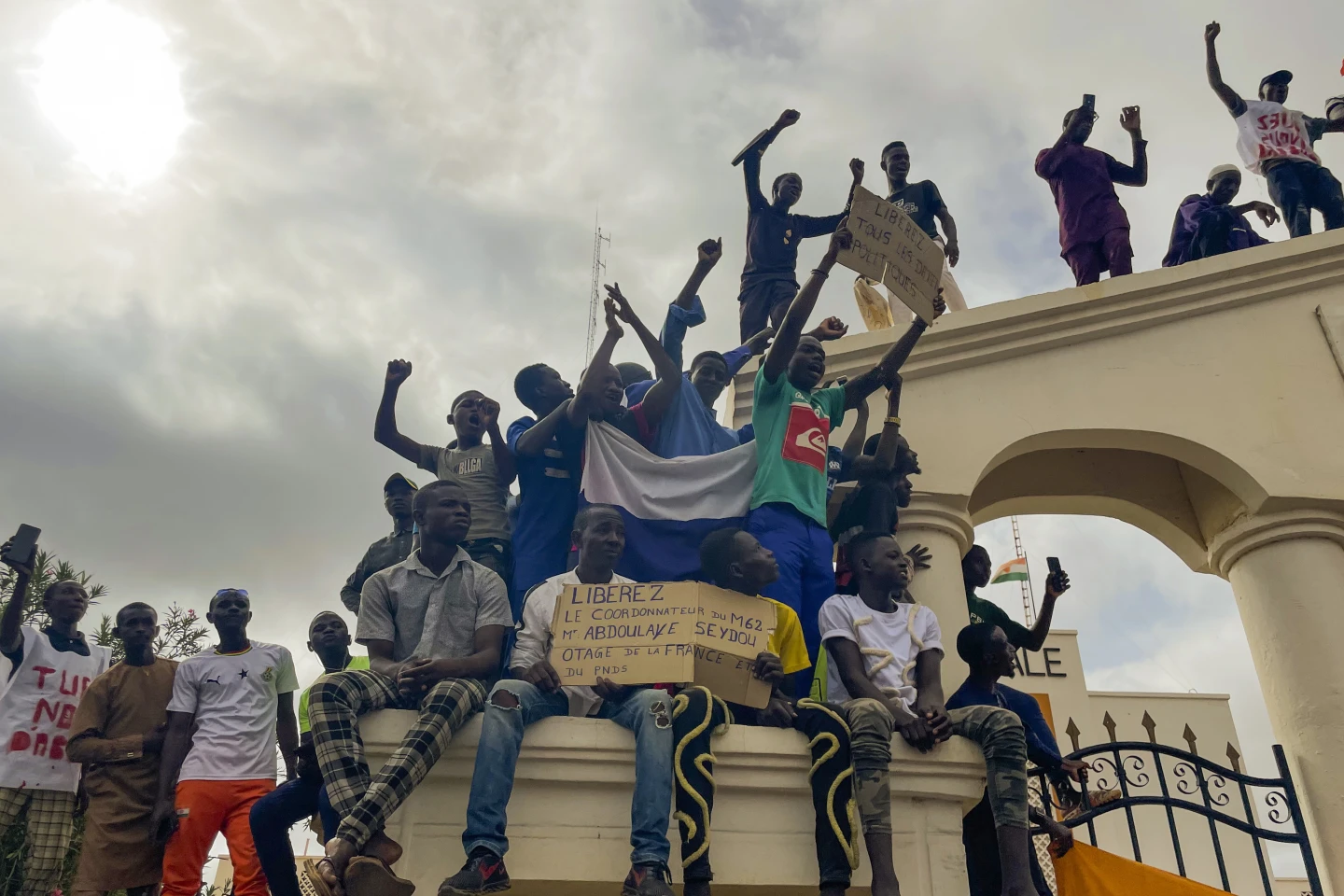 Ten days into a coup in Niger, life has become more challenging for U.S. forces at a counterterrorism base in a region of West Africa known as the world's epicenter of terrorism.
Flights in and out of the country have been curtailed as coup leaders require Americans to seek permission for each flight. Fuel shortages mean the U.S. commander must sign off whenever an aircraft is refueled.
And yet, as several European countries evacuate Niger, the Biden administration is showing itself intent on staying. It sees Niger as the United States' last, best counterterrorism outpost — and until the coup, a promising democracy — in an unstable region south of the Sahara Desert.
Abandoning it risks not only a surge in jihadist groups, but even greater influence by Russia's Wagner mercenary group.
In an opinion piece published late Thursday in The Washington Post, democratically elected President Mohammed Bazoum urged the U.S. and others to help Niger restore its constitutional order. He warned that otherwise the "entire central Sahel region could fall to Russian influence via the Wagner Group" and Islamic extremists would take advantage of Niger's instability.
"They will ramp up their efforts to target our youths with hateful anti-Western indoctrination, turning them against the very partners who are helping us build a more hopeful future," the president wrote.
While some European governments shut embassies and evacuated their citizens on military flights this week, as scattered anti-Western protests broke out following the coup, U.S. diplomats sent home nonessential staff and some family this week but stayed on.
"The U.S. Embassy is open. We intend for it to remain open," State Department spokesman Matthew Miller told reporters in Washington.
President Joe Biden called late this week for the Nigerien presidential guards who are holding Bazoum to release him and immediately restore Niger's "hard-earned democracy."
Secretary of State Antony Blinken, who praised Niger as a "model of resilience, a model of democracy, and a model of cooperation" when he visited in March, has been calling Niger's captive president almost daily, affirming U.S. support for his safety and return to power.
As the military overthrow stretches into its second week, U.S. officials refuse to formally call it a coup, saying they retain hope of a return to civilian government. Junta leaders announced late Thursday that they were severing Niger's military partnerships with France, the country's colonial ruler, but they have said nothing about doing the same regarding the hundreds of millions of dollars of training and support from the United States, signaling they may have hope of working with Washington. The U.S. says it suspended military cooperation since the first days of Bazoum's detention.
The firm U.S. stance in Niger is in contrast to its response to other recent international crises and armed takeovers. That includes in nearby Sudan, when fighting erupted between two rival generals in April. Then, American diplomats and security forces were among the first foreigners to shut down operations in Sudan and fly out.
The 2021 U.S. retreat from Afghanistan, itself an important territory for U.S. counterterrorism operations, signaled an administration willing to cut deep in paring its security obligations to focus attention on a main challenge, from China.
U.S. officials declined to say Thursday how far they would go to restore Niger's government, including whether they would support any use of force by a regional security bloc known as ECOWAS.
"Right now, we're focused on diplomacy," said John Kirby, a spokesman for the National Security Council, saying diplomacy "should still be the first tool of choice."
Both France and the United States have threatened to cut off millions of dollars in aid unless the new junta steps down.
But the usual U.S. response of sanctions and isolation when military figures seize power in West Africa is riskier now given the avidity of the jihadists and Kremlin-allied forces.
John Lechner, a West Africa analyst and author on the Wagner Group, sensed more analysts proposing some in-between solution, such as the U.S. retaining security ties in exchange for mere promises of a transition back toward democracy.