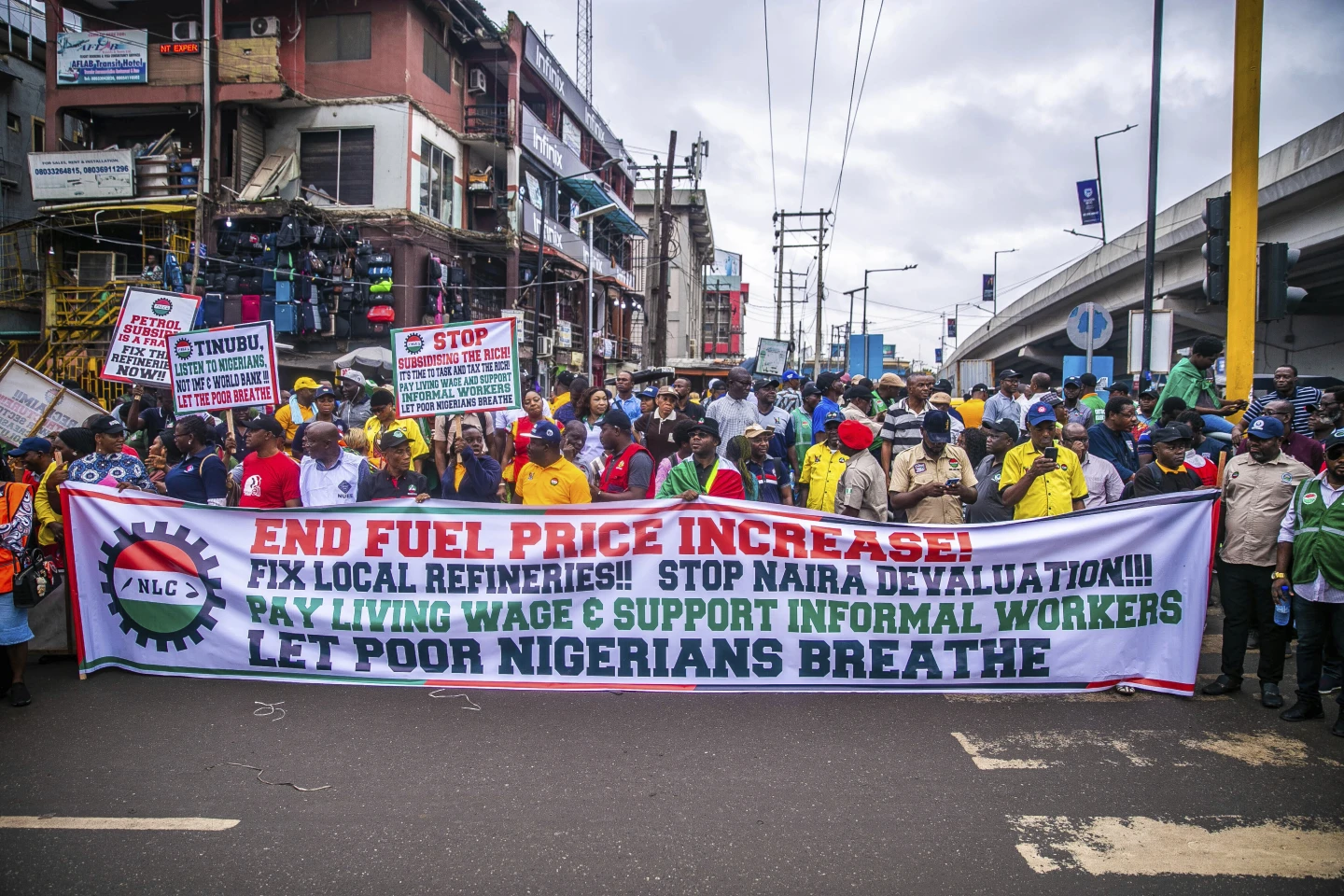 Labor unions marched across Nigeria on Wednesday to protest the soaring cost of living under the West African nation's new president, with calls for the government to improve social welfare interventions to reduce hardship.
The unions, made up of government workers, said the economic incentives announced this week by Nigerian President Bola Tinubu to ease hardship were not enough. They also accused him of failing to act quickly to cushion the effect of some of his policies, including the suspension of decadeslong, costly subsidies that have more than doubled the price of gas, causing a spike in prices for food and most other commodities.
As the protests swelled across the country, union leaders met with Tinubu at his office and told reporters afterwards that they would deliberate on "some commitments" made by the Nigerian leader in response to the protests.
In the capital of Abuja, protesters pulled down the gate of Nigeria's National Assembly before some of the lawmakers met with them and asked for more time to carry out their demands.
In May, Tinubu scrapped the subsidy that cost the government 4.39 trillion naira ($5.07 billion) while new leadership of the country's central bank ended the yearslong policy of multiple exchange rates for the local naira currency, allowing the rate to be determined by market forces.
Both moves aimed to boost government finances and woo investors, authorities said. But they have had an immediate impact of further squeezing millions in Nigeria who were already battling surging inflation, which stood at 22.7% in June, and a 63% rate of multidimensional poverty.
"Since the subsidy removal, you can't move from one place to another," said Joe Ajaero, president of the Nigerian Labor Congress, the umbrella body of the unions. He was referring to the cost of transportation that has more than doubled in many cities, forcing a growing number of people to walk to work.
Ajaero said the labor unions have proposed an upward review of salaries but "the federal government has refused to inaugurate the committee on the proposal."
"Mr. President can't join the league of lamentations; he should come out openly and let us know those people who have cornered our commonwealth … and not to lament that some people have stolen our money," said Ajaero, adding that the protest could continue for a long time.
One of the protesters, Usman Abdullahi Shagari, said he has been struggling to provide for his family, which includes five children, after the price of food items more than doubled.
"Feeding today is the most important thing," said Shagari, 45. "Everything has increased, so that has affected the feeding of my family and my salary cannot withstand it."
– Chinedu Asadu, AP News