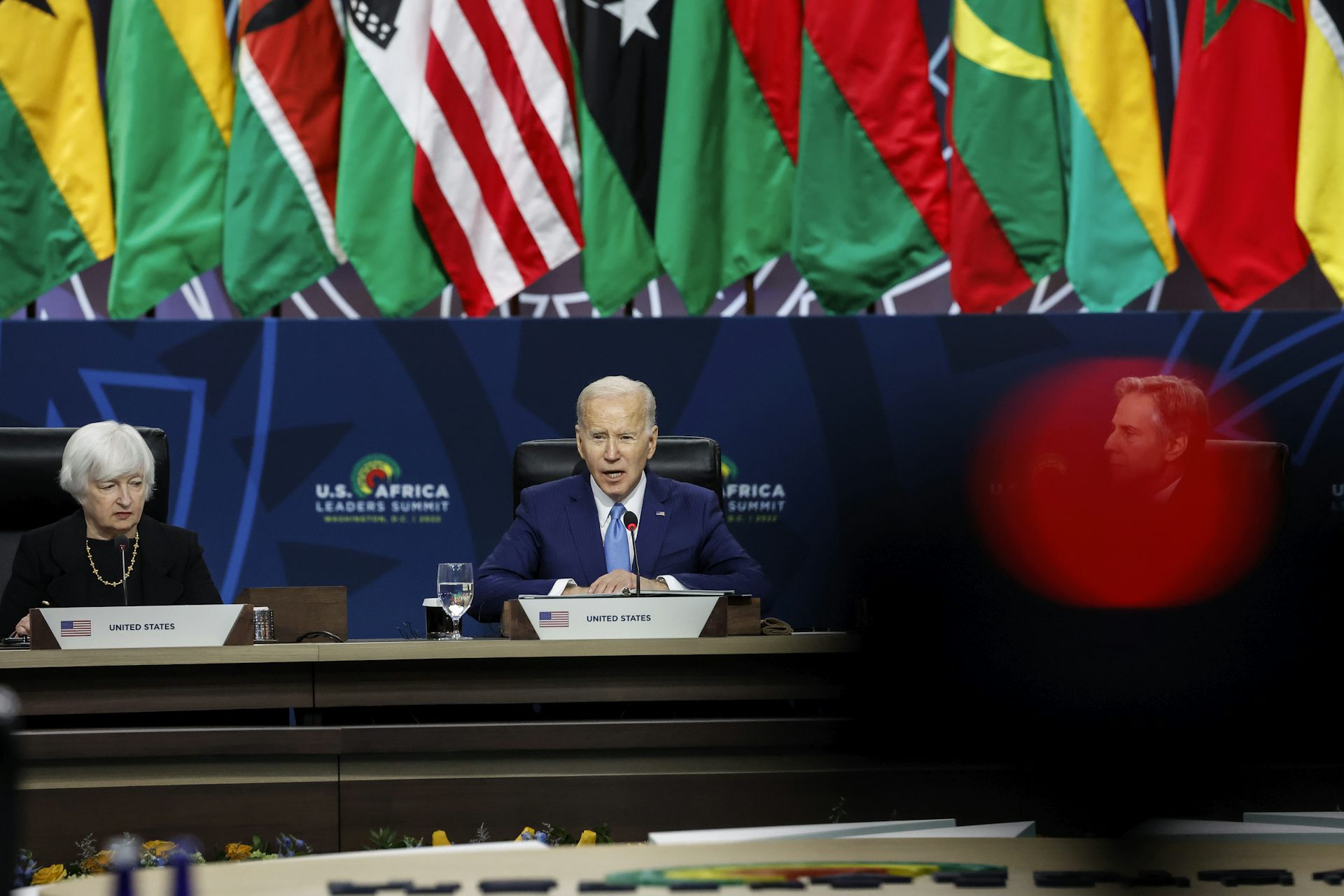 Recent allegations by the U.S. ambassador to South Africa that the African nation gave ammunition and weapons to Russia in December 2022, amid Russia's war on Ukraine, illustrate the complexity of U.S.-Africa relations.
Even as South Africa investigates those claims, the Biden administration is trying to strengthen ties with the African Union, a continental member organization, and 49 of Africa's 54 countries, including South Africa, on geopolitical and commercial issues.
The only African countries the U.S. is not courting are four that were suspended from the African Union, and Eritrea, a country with which the United States doesn't have a formal relationship.
The U.S. is making this grand African play as it competes with China to influence the continent's future. And while this particular U.S.-China contest is relatively new, U.S. involvement in Africa is not.
The way the U.S. has been involved on the continent, though, has changed over time, depending on the era, U.S. interests and a particular African nation's needs. In 1822, for example, the U.S. began to send freeborn African Americans and emancipated former enslaved African Americans to Africa, where they settled the colony that would eventually become Liberia. That settlement was originally governed by white Americans.
After Liberia became a self-governing, Black republic in 1847, it relied heavily on U.S. financial assistance. By 1870, that assistance came by way of high-interest loans.
Decolonization and US interest in Africa
U.S. involvement with other African states took root after various countries, formerly governed by colonial powers, entered into self-rule. American policy objectives on the continent centered around U.S. strategic interests and came in the form of military and economic aid.
The U.S., for example, established diplomatic relationships with Egypt in 1922, Sudan in 1956 and Ghana in 1957, after those countries gained independence from the United Kingdom.
Beginning in the late 1950s, when other African countries gained independence, the U.S. formed diplomatic and commercial ties with them as well and worked to reduce the Soviet Union's influence on the continent. In 1961 and 1962, the U.S. persuaded West African countries to deny the Soviet Union commercial flyover and landing rights in their territories.
After the the Cold War ended, the U.S. lacked clear policy objectives toward Africa, and interaction between the superpower and the continent waned.
Renewed US interest in Africa
In the 21st century, the U.S. began to turn its attention back to Africa as a way of pushing its strategic interests and strengthening commercial and diplomatic ties with African countries.
In 2000, during the Clinton administration, Congress enacted the African Growth and Opportunity Act to open American markets to eligible African countries.
Then, in 2003, President George W. Bush launched the global health initiative, the U.S. President's Emergency Plan for AIDS Relief, that has been the U.S.'s most significant action on the continent since its nearly 250-year enslavement of Africans – first as Colonial America, then the U.S. – from 1619 to 1865.
Known as PEPFAR, the initiative is credited with saving 21 million lives, mostly in Africa and the Caribbean.
More recently, the U.S. has held two U.S.-Africa Leaders Summits. President Barack Obama hosted the first one in 2014, and President Joe Biden held the second one in 2022. And, as part of the Biden administration's Africa outreach, Vice President Kamala Harris visited Ghana, Tanzania and Zambia in March 2023 to discuss security and economic issues with leaders of those countries.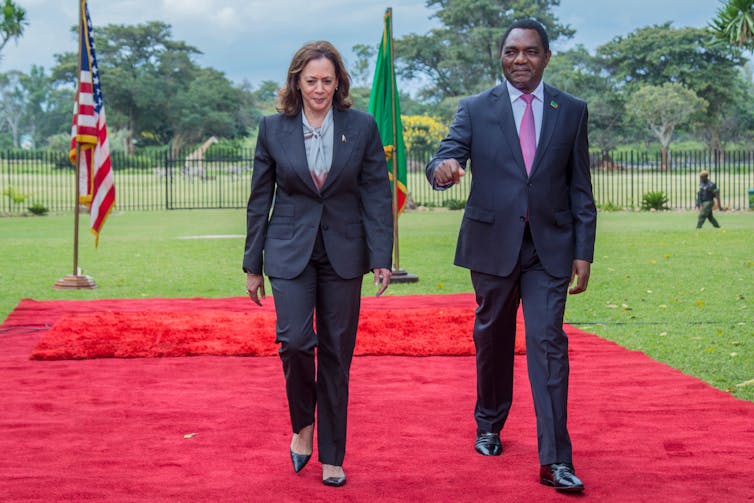 It's not just about diplomacy
Yet, the relationships between the U.S. and African nations run deeper than government-to-government partnerships or aid.
As Biden said during the December 2022 U.S.-Africa Leaders Summit dinner: "Our people lie at the heart of the deep and profound connection that forever binds Africa and the United States together. We remember the stolen men and women and children who were brought to our shores in chains, subjected to unimaginable cruelty. My nation's original sin was that period."
As the U.S. courts Africa broadly, African countries, such as Sierra Leone, Liberia and others, are courting African Americans, encouraging them to visit, set up homes and establish businesses and economic ties in their ancestral homeland. No country has made more of an effort than Ghana, which, for example, is making special accommodation for Americans who purchase land there.
Invitation to the motherland
In 2000, the Ghanaian Parliament passed a Citizenship Act, which grants the right of dual citizenship to people of Ghanaian descent. African Americans have been able to trace their ancestry to Ghana and other African countries because of genetic testing. And the Immigration Act, passed the same year, includes a "Right of Abode" that allows anyone in the African diaspora to travel to and from the country freely.
In September 2018, Nana Akufo-Addo, president of Ghana, announced a campaign commemorating the 400-year anniversary of the first enslaved Africans brought to Jamestown, Virginia, with a goal of spurring African American business, investment and tourism in the West African nation. Ghana has long promised African Americans and other people in the African diaspora dual citizenship rights and business opportunities. Ghanaian leaders have made it clear that they want African Americans and others to invest in the country.
Since the Year of Return, at least 1,500 African Americans have received citizenship rights in Ghana, and some 5,000 African Americans have made Ghana their permanent home.
The Ghanaian government launched another campaign in 2020 to increase tourism and investment in the country by people in the African diaspora, as well as to deepen social ties between Ghanaians and the diaspora.
Following Ghana's playbook, in 2021, Senegal worked with African American business leaders to celebrate its first "The Return." Held on June 19 that year, the event was a historic Juneteenth initiative, modeled after the American holiday to commemorate the end of slavery in the United States and encourage African American investment in the country.
Akufo-Addo may have sparked a 21st century resurgence of trans-Atlantic African appeals to African Americans and other people in the African diaspora.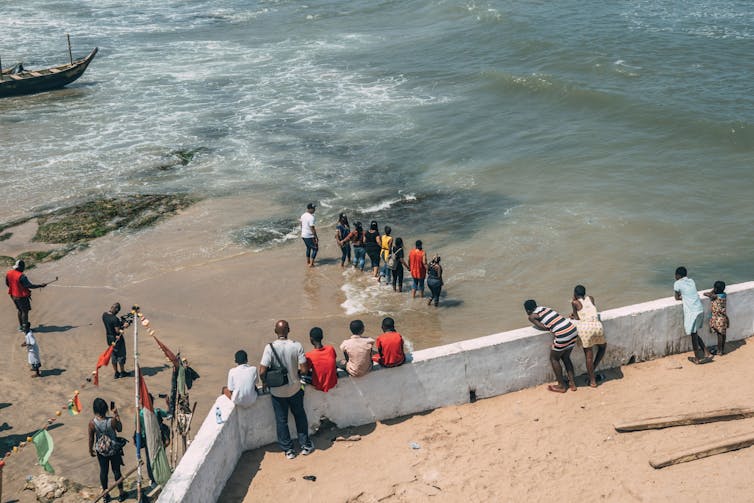 Asafa Jalata, Professor of Sociology and Global and Africana Studies, University of Tennessee
This article is republished from The Conversation under a Creative Commons license.