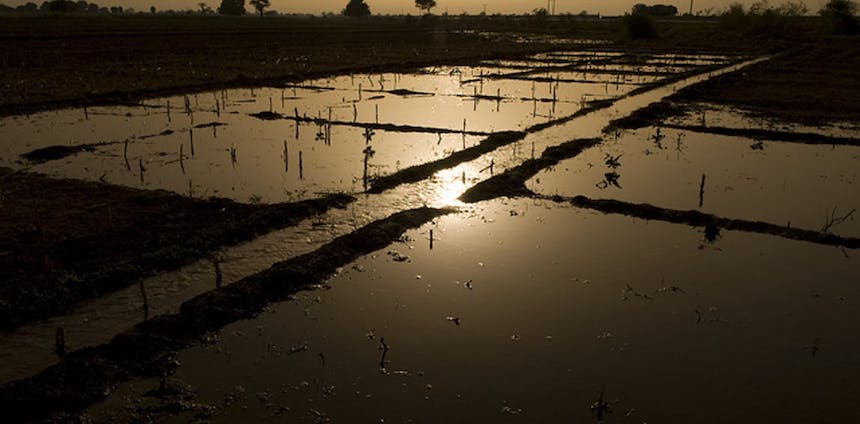 Disease can have a major impact on our working lives. Take malaria. It affects 3.2 billon people around the world.
Sub-Saharan Africa carries a disproportionately high share of the global malaria burden. In 2015, the region was home to 90% of malaria cases and 92% of malaria deaths, which occurs mostly among children. With over 7.8 million cases of malaria, Nigeria has the highest caseload on the continent.
As a result the cost of work days lost as well as lower productivity can be significant.
People who work in agriculture may be particularly at risk from this disease, as irrigated land can be fertile ground for mosquito breeding. It can have a major effect on their day-to-day lives and their ability to work and earn an income.
Studies show that for individuals living in malaria endemic areas, households can lose up to a quarter of their income.
Improving labour productivity, which is often low in developing countries, is also critical to boosting economies, besides raising household income and the well-being of families and communities.
Can treating and testing for diseases like malaria in the workplace offer ways forward? We set out to find the answers through a research project in Nigeria.
The impact of workplace treatment
We've been studying how malaria affects workers at a large sugarcane plantation in Nigeria. Malaria is endemic in the West African nation. It not only puts a significant strain on the country's health system but also lowers workers' productivity levels.
Our work focuses on a programme that offers affordable, private malaria testing and treatment for sugar cane cutters. Our previous study showed that this type of work based malaria programme can help employees get back into work, and increase their productivity and earnings.
This time we fitted workers with accelerometers: small wearable activity monitors that measure their daily activity. We also registered their productivity, measured in number of canes cut, which determines their earnings.
Overall, being tested and treated for malaria increased the ratio of active hours relative to sedentary hours and the level of moderate physical activity by 27%. Earnings grew by as much as 25% among workers who were able to work and had access to the programme.
Interestingly, worker effort did not only increase among those who diagnosed with malaria. Workers who learned that they were malaria negative also showed increased effort, suggesting that they worked at lower effort in the first place, when uncertain about their health.
Positive outcomes
This new research shows that health programmes can lead to workers becoming more active on the job and increase their effort in the workplace.
It's also likely to lead to more workers wanting regular malaria screenings – an indispensable element of any control or eradication endeavour. Improved access to rapid diagnostic tests also makes this increasingly feasible.
The effect will be felt by both employees and employers. Increased worker effort could lower costs for firms operating in malaria endemic environments by reducing replacement costs for workers who fall ill.
Because of these wider economic implications, employers and governments should consider support of these type of programmes, and encourage their uptake.

For more information about this research, read the "Research in Context" brief on the DFID Economic Growth Research Programme website, which can be accessed here. The latest working paper from this research on can be accessed here.
Andrew Dillon, Assistant Professor, Michigan State University; Pieter Serneels, Associate Professor of Economics, University of East Anglia, and Sarah A. Kopper, PhD Candidate in Agricultural, Food, and Resource Economics, Michigan State University
This article was originally published on The Conversation. Read the original article.