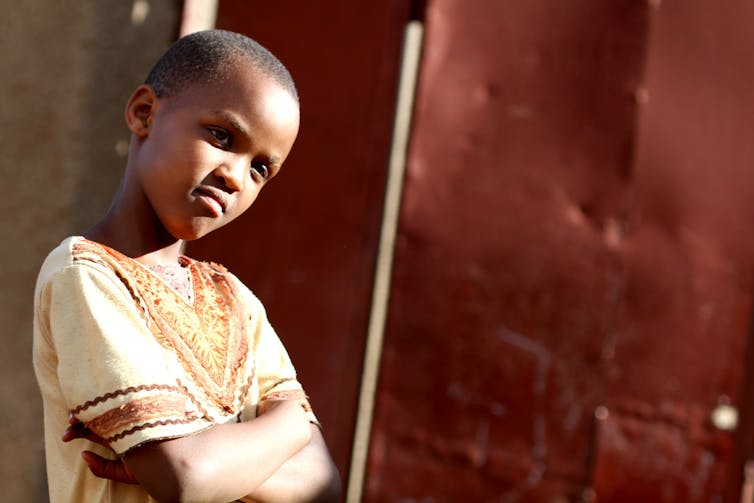 Since the 1994 genocide against Tutsi, Rwanda has made considerable progress towards gender equality, now ranking fifth in the world on the Global Gender Gap Index.
It pursued sociopolitical reforms that favour disadvantaged groups. For example, constitutional reforms now mean women and people with disabilities are guaranteed membership in the national parliament. Other initiatives include giving disadvantaged young people access to nine years free education under and the "Nine Year-Basic Education" programme.
Despite these steps towards inclusion, girls with disabilities, who already grapple with social structures that put them at a disadvantage, continue to struggle against male domination in schools.
As described by Joy, a student at one school:
Boys seem to openly dominate in all class discussions and responses…(It's common to see them) ridicule girls who make simple mistakes…They use (sayings) such as "she is a girl after all" or, when she is assertive in her responses, "she is a man".
But the girls are fighting back. We discovered this in research that we did that involved 51 in-depth interviews with disabled Rwandan pupils and community stakeholders,
We investigated how disadvantaged girls with disabilities resist and challenge male domination in Rwanda's oldest and largest public school, Gatagara School. The school caters for students with disabilities, initially starting as a rehabilitation centre in 1962 and opening its doors to children with various disabilities in 1973.
Our research shows that girls resist male domination by either directly and assertively confronting it, or by using more subtle tactics. In doing so, they challenge domination and stereotypes and affirm their capacity for leadership in a male-dominated setting.
Resistance strategies
The girls use two distinct resistance strategies: assertive resistance and subversive resistance.
Assertive Resistance
This includes challenging boys, pursuing and holding prominent school leadership roles and advocating for the recruitment of more female teachers and support staff.
For instance Ruth, a 20-year-old 11th grader, asserts:
I know that boys and girls with disabilities have to struggle in our society, but we are not in the same position in school…I'm not afraid to challenge boys in class. I know I am as smart – and may be more. I want us to have a better life, a better time in school…it's hard enough being a girl in Rwanda, and even harder to be a poor girl with disabilities…
Rene, an 18 year-old in grade 10, emphasises the importance of more equitable gender relations among people with disabilities. She posits that:
(G)irls with disabilities, can do even better and contribute even more to our country if we are enabled to excel in school and not feel pitied or put down because we are girls with disabilities.
Subversive Resistance
Those who practice assertive resistance openly criticise sexism in the school. Subversive resistance, on the other hand, is more subtle. In this strategy the girls allow for periods of prejudice, with the view of eventually reversing it.
For example 25 year-old Peace, who recognises the influence of patriarchy in prescribing "good girl" behaviour, argues that:
There are more boys with disabilities here at Gatagara than girls with disabilities…we don't have many female teachers to support us. That is why it is difficult for me…I can play by their rules until I am in charge and can change the rules…I am going to be a scientist…When I am in power, boys will not be able to treat me or any other girl with disabilities in a bad way. I will use my power…
Peace's short-term compliance – being polite, kind, calm and amenable – can be interpreted as a survival strategy in a male-dominated society given that acting otherwise might be seen as subversive in a male-dominated society such as Rwanda.
Jeanette, a 23 year-old grade 11 student, justifies this restrained resistance on a different note. She says that:
one has to know what her goal is to win the battle…I want power for the future…when I can really get boys to change their ways….
Unified policy approaches
While the paper points to a significant disconnect between Rwanda's international reputation for gender equality and lived realities on the ground, the girls' experiences provide valuable insights into compounded inequalities.

Their experiences call for a proactive national strategy that involves multiple sectors, namely; education, labour and politics. The strategy must be specific to girls with disabilities in schools and ensure that they are properly represented in public and private sectors. This is key to making Rwanda's pledge – to remove all obstacles against women's development – a more substantive reality.
Evariste Karangwa, Dean, School of Inclusive & Special Needs Education, University of Rwanda and Jeannette Bayisenge, Lecturer, Center for Gender Studies and School of Social, Political and Administrative Sciences, University of Rwanda
This article was originally published on The Conversation.