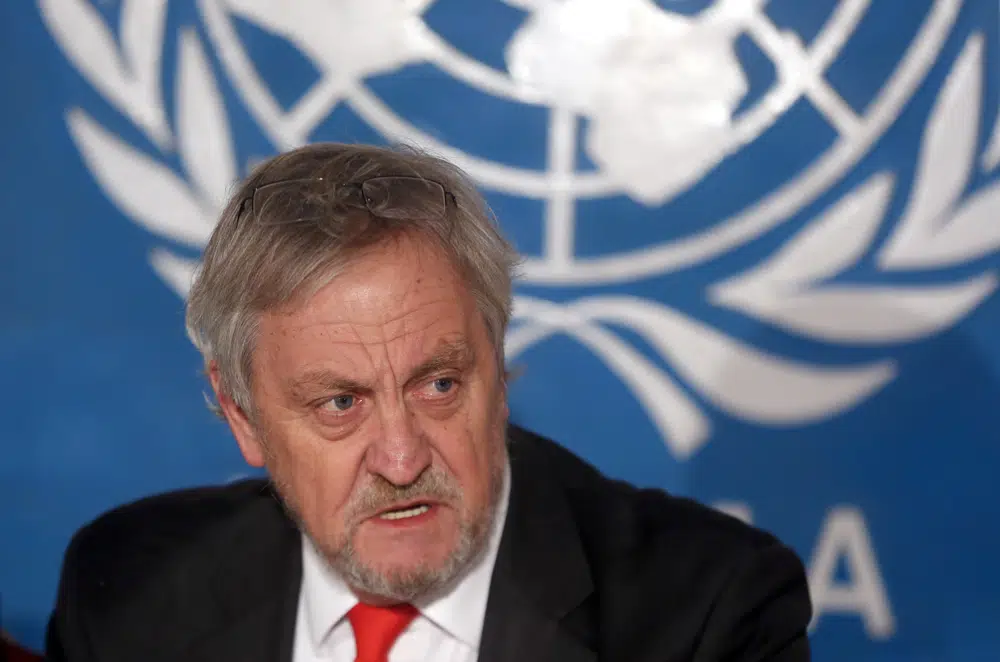 The U.N. envoy for South Sudan warned the Security Council Tuesday not to take its eyes off the world's newest nation, saying the conflict in neighboring Sudan shows "how quickly hard-won peace gains can unravel."
Nicholas Haysom said the impact of the conflict is "unfurling along multiple fronts," with over 117,000 women, children and men fleeing into South Sudan, where violent clashes also persist, and the government is struggling to implement the most challenging provisions of a fragile 2018 power-sharing agreement and move toward the country's first elections as an independent nation.
He said the capacity of the government and humanitarian organizations to absorb the newcomers – 93% of them South Sudanese returning to the country – "is under strain," with limited local resources and bottlenecks in border towns, especially Renk.
The conflict, which broke out in mid-April capping months of increasing tensions between the leaders of Sudan's military and powerful paramilitary group known as the Rapid Support Forces, has also had an economic impact in already fragile South Sudan, Haysom said.
The sudden interruption of imports from Sudan has put essential commodities "out of reach" for ordinary people in South Sudan, he said, and if oil exports from South Sudan through Sudan's main seaport, Port Sudan, are interrupted as recently threatened, the effect on the country's oil-dependent economy could be "devastating."
There were high hopes when South Sudan gained independence from Sudan in 2011 after a long conflict. But the country slid into a civil war in December 2013 largely based on ethnic divisions when forces loyal to the current president, Salva Kiir, battled those loyal to the current vice president, Riek Machar.
The war, which left nearly 400,000 people dead and more than 4 million displaced, ended with the 2018 peace agreement, bringing Kiir and Machar together in a government of national unity. Under the agreement, elections were supposed to be held in February 2023, but last August they were postponed until December 2024.
While large-scale clashes have subsided, violence in parts of South Sudan persists, killing 2,240 people last year, according to the Armed Conflict Location & Event Data Project. Earlier this month at least 20 people were killed and more than 50 wounded during inter-communal clashes in a United Nations protection camp in the north of the country.
Implementation of the peace agreement has been sluggish. A permanent constitution still has not been drafted. A census has not been conducted. Security arrangements, considered the backbone of the agreement, are only partially complete. Some 83,000 soldiers from opposition and government forces are meant to unite in a national army, but so far 55,000 have graduated and are yet to be deployed. Others languish in training centers with poor conditions and little food.
Haysom said on the political front, the Sudan conflict "reduces the much-needed bandwidth (both domestic and international) to focus attention on South Sudan during this critical phase of its transition."
South Sudan's president Kiir has been leading efforts by the regional group IGAD to end the conflict between Sudan's rival generals, which Haysom called "commendable." But he stressed that the timeline for South Sudan's peace process and elections should not become "the opportunity cost of these efforts."
Haysom warned that the humanitarian, economic and political impacts of the Sudanese fighting are exacerbating "the existing triggers and drivers of conflict" in South Sudan, and are "complicating an already tenuous security situation across the country."
He pointed to northern migratory cattle herders refusing to return to Sudan raising the risk of clashes with South Sudanese agrarian communities, and increased competition over scarce resources including water as examples.
Haysom called for redoubled efforts in South Sudan to draft a constitution and hold elections.
"In our estimation, the constitution-making process is 10 months behind schedule, elections planning eight months behind, and several aspects of the transitional security arrangements are hanging," he said.
The U.N. envoy said South Sudan isn't ready today to roll out an electoral process, but it may be possible to make up the gap if there is a united effort by all parties.
– Edith M. Lederer, AP News