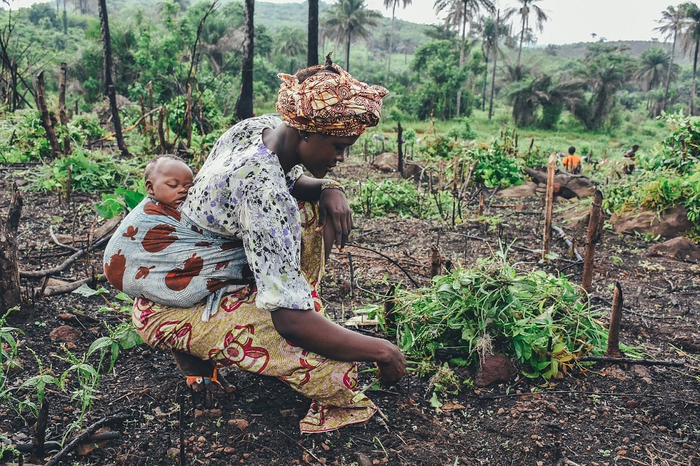 A multimedia approach to extension services has helped increase the uptake of Sustainable Agricultural Intensification (SAI) in Ghana, Nigeria, Tanzania and Uganda as part of the African Soil Health Consortium's (ASHC) scale-up campaigns focused on the key crops of maize, common bean, soybean, cassava, potato and banana.
New research, led by Dr Monica Kansiime, reveals that ASHC campaigns achieved scale of farmer reach and spurred adoption of promoted SAI technologies through 18 campaigns that employed radio programming, dramas, comics, community video screenings, Short Message Service (SMS) sent through mobile phones, printed materials, demonstration plots and Village-Based Advisors (VBAs) – often in an integrated manner.
The study – published in the journal International Journal of Agricultural Sustainability – demonstrates that the mixed media approach in advising smallholder farmers on ways to improve their crop yields resulted in the adoption of SAI practices by at least 20% of those exposed to the campaigns.
The findings show that between 2015 and 2018, the ASHC programme was able to provide opportunities for increased participation of men, women and youth in the campaigns which were aimed at improved soil fertility management, soil and water conservation, conservation farming, legume intercropping and rotations, new crop varieties, integrated pest management and precision agriculture.
The ASHC initiative sought to promote proven SAI practices and technologies for key crops through other multi-partner projects including SILT (Scaling Improved Legume Technologies), UPTAKE (Up-Scaling Technologies in Agriculture through Knowledge and Extension) and GALA (Gender and the Legume Alliance: Integrating Multimedia Communication Approaches and Input Brokerage).
Dr Kansiime, who is based at CABI's Regional Centre for Africa in Nairobi, Kenya, said, "While various SAI practices have been developed to achieve sustainable intensification, it is widely recognized that many of them are not achieving their full potential because of low adoption.
"Our study shows that exposure to multiple communication approaches – essentially using the same message sent through various channels to reinforce message retention – was associated with increased uptake of promoted practices and technologies, compared to the use of a single channel.
"Crucially, the development of relevant and localized content, multi-partner approaches and the deployment of innovative information channels targeting different audience categories were all key factors in the success of the ASHC campaigns."
The research found that the use of mobile phones tended to favour men, particularly young men who were more likely to use the phones and access information using these devices.
In the SMS campaign in Tanzania, for example, only 30% of women received messages directly, even where farmer profiling aimed to increase the number. This was because women were reluctant to give their numbers to strangers.
Similarly, radio campaigns also tended to favour men, though percentages of female listeners were higher than for mobile, usually around 40%.
"Women tended to rely more on community-based information sources such as demonstration plots, radio listening groups, and village video screenings, compared to men who, in addition to community-based sources, utilized radio and other media approach," Dr Kansiime added.
The study team found that their results are consistent with other examples of multimedia successes evidenced elsewhere. For instance, Karubanga et al. (2016) showed greater potential for the integration of video-mediated extension and face-to-face extension approaches – as the two are complimentary in the various stages of the farmer learning (awareness creation, knowledge acquisition and retention respectively).
Dr Kansiime said, "The ASHC experience further highlights the effectiveness of campaigns as complements to more conventional extension programs. This, in addition, matches evidence from the human health and nutrition fields where these approaches are more common.
"However, adoption varies based on the nature of the practice or technology being promoted, farmer motivating factors such as access to input and output markets, farmer investment capacity and the value of the crop, etc."
She added that the wide array of technological options available and their interactions requires farmers to identify a 'logical stepwise sequence for adoption' that fits their socio-economic circumstances.
"There is a need to provide more tailored information through a stepwise approach, i.e. presenting farmers with subsequent agronomic options that range from low to high investments and which is tied to farmers' investment capabilities.
"A stepwise investment can optimize the return on investment for farmers against their financial capacity and encourage them into a positive cycle of on-farm investment, provided the output markets hold up," she said.